Seattle's sweetest trip around Lake Union. Climb aboard the Fremont Avenue at Lake Union Park for the Ice Cream Cruise. Every hour on the hour we set out on a 45-minute trip around Seattle's Lake Union, for a narrated tour of this unique and vibrant waterway.
Sailing this Sunday. First departure at 11:00. Last departure at 3:00
The Sunday Ice Cream Cruise will run through October 30 and return in the spring. Due to some unexpected cost increases we will not be able to operate the Ice Cream Cruise through the winter.
Saturday Ice Cream Cruise is over for the year. Back in June!
For information on group reservations, private Ice Cream Cruises and our new Bike and Boat, go to Ice Cream Extras
Eat ice cream, enjoy the views and learn about:
The birthplace of the Boeing Company
Turning an old powerplant into a biotech research center
A shipyard that has been working for over 100 years
The busiest drawbridge in the world
Turning an old gas plant into one of Seattle's favorite parks
The unique lifestyle in Seattle's floating home communities
Informal, fun, family friendly and dog friendly. Ice cream is optional, but highly encouraged! Departing on the hour from Lake Union Park, next to the Museum of History and Industry. Click here for directions.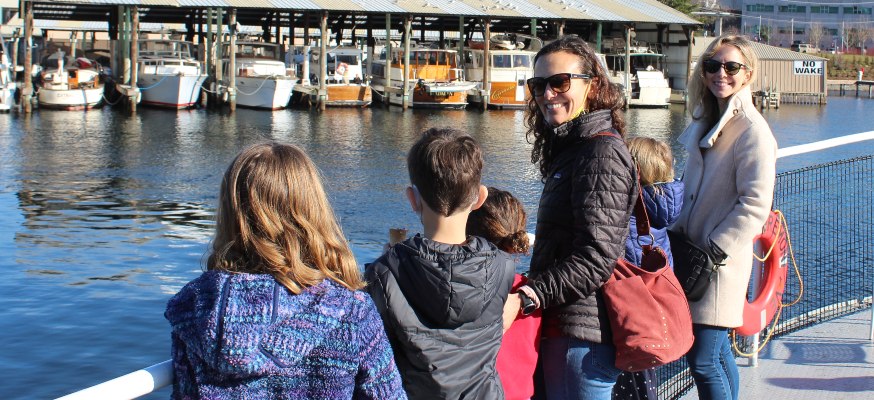 Schedule
Sunday–Year Round
Boarding on Sundays is on a first-come-first-aboard basis, with no reservations or advance tickets. Please form a line behind our sign. Tickets are purchased on board and you can pre-pay for concession items. We accept cash and cards
Summer schedule through August: first sailing leaves at 11:00 am, last sailing leaves at 5:00 pm
We are limited to 42 passengers by our Coast Guard certificate.
Saturday–Summer only
The Saturday Ice Cream Cruise starts June 18, 2022 and runs through August 27
Saturday sailings at 11:00, 12:00, 1:00 and, sometimes, 2:00 (depending on our charter schedule)
---
Fares
Adults –$15.00
Children age 3 to 12 — $10.00
Children age 2 and under — $4.00
A variety of ice cream goodies, non-dairy frozen goodies, snacks and beverages for sale on board
---